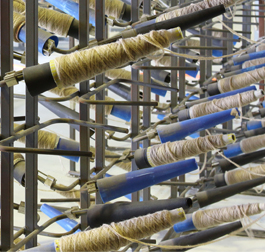 Kalogridis International, a global leader in designing and manufacturing luxury custom aviation carpeting, began developing Deconel in 2003.
PERFORMANCE:
Light-weight and flexible,
Sound absorbing (1.5-3.5 dB / .8-.9NRC),
Fire retardant (ASTM E-84 Class A),
Resist dimpling and bubbling.
APPLICATIONS:
Feature walls and media rooms,
Headboards and chairbacks,
Cabinetry and other hard surfaces,
Aerospace, auto and marine.